Students
After completing the certifications for IC3 and Automation, students can continue on to the job placement process. The first call you need to make is to the Department of Vocational Rehabilitation (VR) in your area. http://www.rehabworks.org/ The left side menu will have information for customers, and you can locate your local office for their phone number and address. It is most important to be connected with the Department of Vocational Rehabilitation in order for them to pay for support services. Once you are approved by VR, you can advise your counselor of the agency you prefer to work with to receive assistance with job placement and job coaching. Learning Academy Employment Services or MacDonald Training Center are among many vendors you can select., If you select MacDonald Training Center or the Learning Academy, your VR counselor will send us a referral about working with you. We will contact you to set up an appointment and get you started in the placement and job coaching process.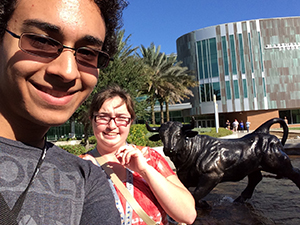 ---
Tech2Work™ is presented by:



---

Copyright © 2016, University of South Florida. All rights reserved. Contact webmaster.
4202 E. Fowler Avenue, Tampa, FL 33620, USA • 813-974-2011



The Florida PBIS is a program of the Florida Center for Inclusive Communities at USF.
USF is an Equal Opportunity/Equal Access/Affirmative Action Institution. For disability accommodations please make your request in writing a minimum of five days in advance.
width="717" height="92"